There are millions of NFTs available for purchase, and thousands of new projects appear to be launched every day. Finding financially decent NFT projects is tough, to say the least. Play-to-earn games, utility, and tokenomics are the most popular NFTs right now. How do you sift through the clutter to discover a good one to follow and even invest in? Let's get started with this article to learn everything you need to know about finding a good NFT project.

What is an NFT?
"Non-fungible token" is the abbreviation for "non-fungible token." An NFT is a digital asset that binds ownership to unique physical or digital assets, such as works of art, real estate, music, or movies, at its most basic level.

NFTs are regarded as collectibles in today's world. They're digital proof of ownership for every specific thing, and they're bought and traded online. NFTs are recorded on a blockchain, the same technology that powers cryptocurrencies, to ensure that each asset is unique. NFTs can also be difficult to alter or counterfeit thanks to technological advancements.

What Happened to NFT Market in 2021

Over the last year, non-fungible tokens (NFTs) have exploded in popularity. NFTs and the
Metaverse, like Bored Ape Yacht Club and Cryptopunks, ushered in a brand-new digital crypto-collectibles market.

Users contributed at least $44.2 billion in bitcoin to ERC-721 and ERC-1155 contracts, the two types of Ethereum smart contracts linked to NFT marketplaces and collections, in 2021.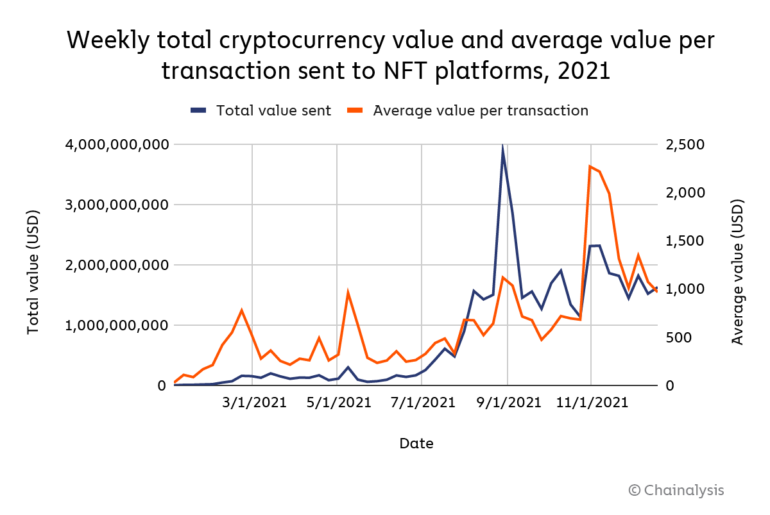 Data From Chainalysis
How to Define a Good NFT Project

A good NFT project will include a platform that allows you to do more than just collect. For example, buying a specific collectible should grant you exclusive access to a specific NFT club. Consider exclusive NFT communities to be similar to the high-end yacht or Lamborghini owner's clubs. Here are 5 aspects that define a good NFT project.

1) Check the Project's Twitter and Website
The social media platform is critical in driving the popularity of NFTs. Any reputable NFT project will have its own Twitter handle for communicating progress, updates, and upcoming features. Links to authoritative NFT resources and other community forums where the project educates its followers are also available. Furthermore, NFT communities are more active on Twitter than on any other social media platform.

You should also visit the main websites for the projects. In most cases, these front-ends will be how you interact with NFT dapps, so keep them in mind.

2) Analyze Team (NFT Group)
NFT project teams are combined with people who're invested in the success of the project. Some teams will have well-known members, while others will be led by unidentified individuals or teams, and still, others will have a mix of known and unknown contributions. There are no correct or incorrect answers here, but you should become acquainted with the main builders. Are they trustworthy? What have they done in the past? That sort of thing.

3) Determine How On-chain the NFTs Are
On-chain metadata increases the value of an NFT, partly because it is incorporated into the token, allowing it to last forever (or as long as Ethereum exists), and partly because on-chain tokens must meet certain Ethereum standards, giving them a liquidity premium and making trading easier. So, before you invest, you should ask yourself some questions. Is the project's NFTs entirely hosted on-chain? Does it maintain a long-term storage split between Ethereum, IPFS, and Arweave? Or does the project host its metadata entirely off-chain, introducing significant trust assumptions for holders? Understanding where projects fall on the on-chain spectrum is an important aspect of NFT research.

4) Check the Project's Discord and Telegram Chats
The majority of NFT projects have Discord and Telegram channels. These community tools enable you to bring your entire community together in one place to make announcements, provide updates, and engage in direct dialogue with your customers. Most importantly, Discord allows you to create a community. Not only can you talk to individuals directly (and vice versa), but people can also talk to each other in feeds.

Currently, the importance of community in NFTs cannot be overstated. It would be extremely difficult for a project to last if it didn't have Discord's community-building capabilities.

5) Analyze On-chain Activity
If the project has already been minted, you can look for additional signals by visiting its profile on an NFT marketplace. (e.g., Wanderers on OpenSea; NonFungible's Market History hub)

Verification: Has the project been validated? Scammers will sometimes create bogus projects with the same name.


Owners: How many goods does each owner have? It's a positive sign that the project isn't concentrated in the hands of a few collectors if there are 2-3 things per owner (split items by owners).


Floor price: Is the floor pricing staying the same? If there are a lot of floor listings, it's a hint that the project is being abandoned.


Rarity: The rarity of an NFT indicates its value. Collectors frequently (but not always) seek out the project's rarest NFTs. Look up NFT rarity for Ethereum and Solana NFTs using rarity.tools and howrare.is respectively.

Best NFT Projects to Follow in 2022

The NFT marketplace is the online storefront for the NFT projects. They differ based on the niche segment of the target audience they're attempting to reach. Others have designated locations catering to a specific specialization, while others have combined numerous sectors into one unified canopy of marketplaces.

Here are the Top 10 NFT projects you might wanna follow in 2022.

1. GALA - Gala Games

Gala is a must-follow blockchain project that is far ahead of the game development curve. In the last few days, the GALA token has reached new all-time highs, indicating a significant two-month increase. GALA exemplifies the potential for play to earn growth, increasing its token from $0.001 to nearly $0.40 in November 2021.

2. ENJ - Enjin Coin

Enjin Coin (ENJ) is a cryptocurrency and blockchain platform created specifically for the gaming industry. Enjin, a business that helps over 20 million gamers create sandbox forums and communities around their favorite games, built it on the Ethereum blockchain. Enjin Coin is a blockchain video game production engine that expands this already-existing platform.

3. SAND - The Sandbox

The Sandbox, which is based on the Ethereum blockchain, allows players to produce, acquire, and trade assets (such as items, equipment, and landscape objects) in the form of non-fungible tokens, giving gamers actual ownership of all material created rather than developers and publishers.

The Sandbox Alpha is a multi-week open Play-to-Earn event that begins on November 29 at 1PM UTC and allows players to explore The Sandbox Metaverse for the first time through 18 experiences built by The Sandbox's teams.

4. LAND - Decentraland

Decentraland is a decentralized virtual reality (VR) platform built on top of the Ethereum blockchain and powered by it. Users may develop, consume, and monetize experiences, applications, and content within it.

5. AXS - Axie Infinity

Axie Infinity is a cryptocurrency built on the Ethereum network. The Ronin network, a side chain to Ethereum, is also being developed by the Axie Infinity team. The RON token will be added to the Axie economy to help with land-based gameplay.

It's a metaverse-based game focused on characters and their unique skills. Daily challenges, arena battle mode, and breeding are all included in the game.

6. Women Rise

Women Rise is a collection of 10,000 randomly generated images by internationally acclaimed visual artist Maliha Abidi. The collection's goal is to make the NFT space more inclusive and diverse by introducing more female characters and donating a portion of primary sales to funds that promote gender equality, girls' education, and mental health in marginalized societies.

7. MekaVerse

The MekaVerse is a collection of 8,888 generative Mekas inspired by Japan's Mecha worlds. Mattey and Matt B founded the MekaVerse project. They're two friends and 3D artists who have dived headfirst into the NFT world. This project's roadmap involves bringing the Mekas to life through high-quality 3D-printed toys. The MekaVerse project is still in the works, with the creators and owners of the characters driving the plan.

Plans for the project include streetwear, collaborations with well-known artists, and the possibility of short films based on the characters.

Conclusion

Now, you are the mastermind behind your NFT and crypto venture. It's up to you to traverse these weird, futuristic waters with caution. The good news is that you can find all of the information you need on the internet for free. With a little effort and dedication, you can quickly become a top-notch NFT researcher.