About SuperRare: NFT Art Exhibition
SuperRare is a marketplace to collect and trade unique, single-edition digital artworks. Each artwork is authentically created by an artist in the network, and tokenized as a crypto-collectible digital item that you can own and trade. It brings a new way for NFT artists and enthusiasts to interact with art, culture, and collecting on the internet, just like Instagram meets Christies.
The SuperRare NFT marketplace was founded in 2018, focus on quality over quantity which earned SuperRare a relatively high reputation within the NFT platform space.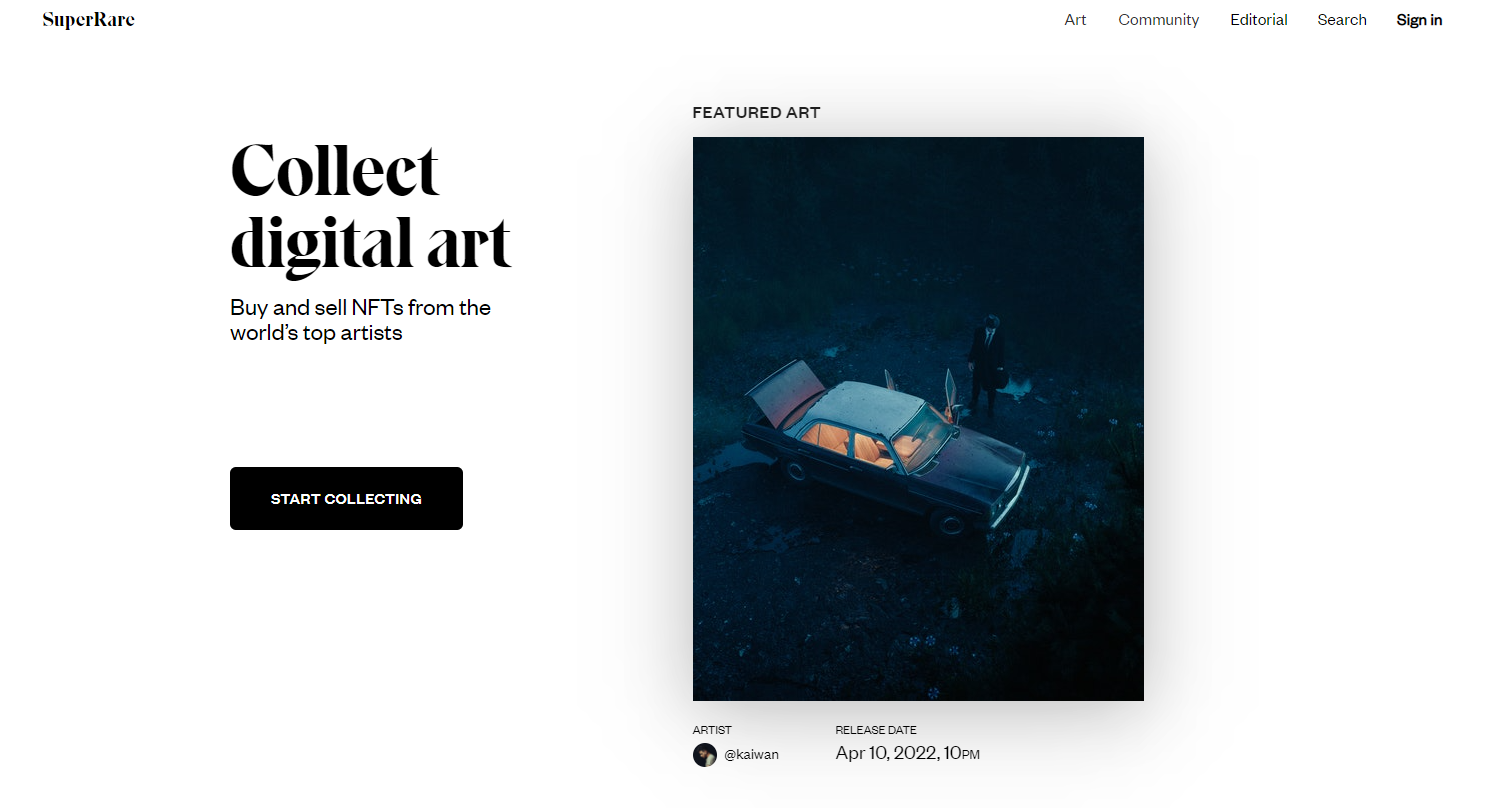 What makes it exclusive?
Each artwork on SuperRare is a digital collectible– a digital object secured by cryptography and tracked on the blockchain. That's just a fancy way of saying they're provably scarce items that can be collected, and that hold value just like cryptocurrencies like ether and bitcoin.
SuperRare is focused on art-oriented NFTs, meaning it normally does not list NFTs related to digital gaming assets, domains, or music. SuperRare has listed works that span a broad spectrum of artistic styles ranging from photorealistic illustrations to psychedelic and conceptual art.
What's more, SuperRare is a peer-to-peer marketplace for non-fungible tokens (ERC-721 NFTs) built on Ethereum.
SuperRare Token: RARE
In 2021, SuperRare began airdropping RARE tokens as a reward to users who have contributed to the platform's success, as well as creators who have generated artistic outputs over time — regardless of the financial value of their actual NFT sales. RARE is an ERC-20 token with a total supply of 1,000,000,000. 40% of all total RARE tokens are allocated to a community treasury.
The SuperRare DAO and RARE token are designed to give the platform's community of collectors and artists the ability to shape the future of SuperRare. RARE is used to vote on proposed improvements to the SuperRare crypto platform, shape future curation decisions, and help decide how to allocate funds from the community treasury.
SuperRare has established a Governance Council made up of elected SuperRare community members to oversee the funds stored in the SuperRare DAO and to help enact decisions made by the wider RARE token-holder community.
SuperRare Purpose
The SuperRare NFT platform was established to push back against the influx of lower-quality NFT drops and offerings in the crypto space while offering collectors a curated array of high-quality digital masterpieces. With the launch of the RARE token and SuperRare DAO, the team behind SuperRare is ceding control of the platform with hopes that its community will become responsible, forward-thinking tastemakers in their own right.
How does SuperRare work?
The SuperRare crypto platform uses the Ethereum blockchain to mint, transact, and verify NFTs listed on its platform. Like most NFT marketplaces, SuperRare is non-custodial, which means that a seller's NFT is locked in a smart contract when listed and doesn't leave its wallet until it is sold. Similarly, a buyer's funds remain secured via a smart contract when used to bid on an NFT, and are only transferred if and when a user's bid is successful.
The SuperRare crypto platform uses the Ethereum blockchain to mint, transact, and verify NFTs listed on its platform.
Like other NFT platforms, SuperRare primarily operates on a timed auction model. Auctions can either be set up with a specific reserve price that bids need to meet, or initiated with a simple start and end date and no reserve. A user's SuperRare NFT purchases are automatically displayed in their NFT collection. What's more, users can customize their NFTs from favorite creators and decide their exhibition. This adds a social element to the platform's curation process and encourages users communication positively.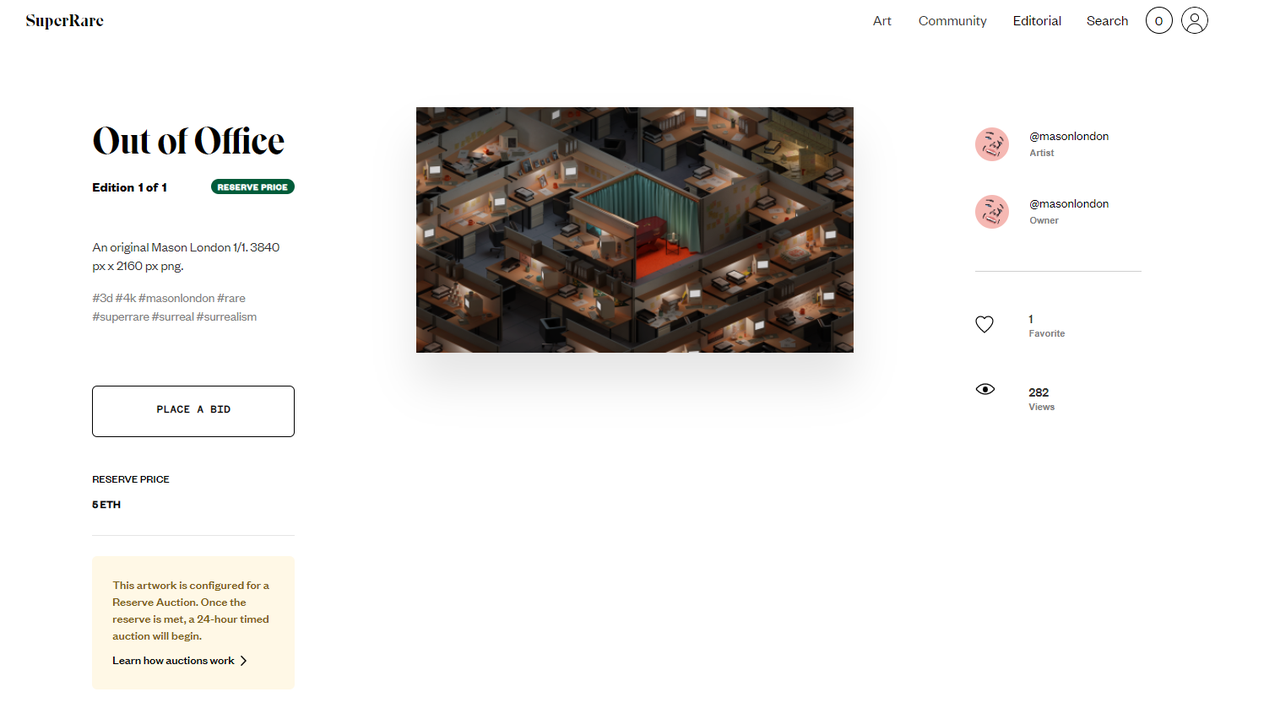 Additionally, creators receive a 10% royalty for every peer-to-peer (P2P) sale of their creation on SuperRare in perpetuity, which helps provide artists with passive revenue from their artwork no matter how many times their creations change hands. SuperRare has also implemented a collector's commission that pays 1% to the first collector when they sell an NFT. Unlike the artist commission, this collector commission is reduced over time, with its percentage value decreasing by 40% with each subsequent resale until it is fully exhausted. There is also a secondary collector's commission that starts at 0.5% on subsequent sales, decreasing on the same scale as the primary collector's commission.
These collectors' commissions are drawn from SuperRare's network fees, which are replenished by the 15% seller's fee and 3% buyer's fee that SuperRare charges on all transactions. This seller's fee is higher than what marketplaces like OpenSea and Rarible charge, and SuperRare's 3% buyer's fee is also higher than Rarible's and OpenSea's. Additionally, it's worth noting that SuperRare only accepts ETH for payment, while some other platforms accept multiple cryptocurrency payment options.
Resource: Cryptopedia